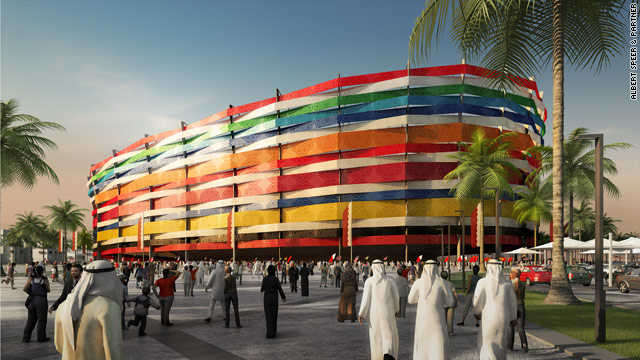 I need to start with a disclaimer: I am not against the 2022 World Cup going to Qatar.
I just can't wrap my head around how it will work.
We've heard before how tiny Qatar is. How it's the smallest country ever to host the World Cup. But putting it into perspective makes it even more inconceivable.
Qatar is less than a third the size of the next smallest country to host the World Cup, Switzerland - and the Swiss hosted it in 1954. There were only 16 teams, 26 matches and a total attendance of 890,000 at the 1954 World Cup. Compare that to 2010: South Africa hosted 32 teams, 64 matches, with a total attendance of 3.2 million . And remember that Qatar has a population of just 1.7 million. How will all those visitors fit into one small country for a month of football?
If you're struggling to picture this, just take a look at the approximate size of Qatar superimposed over Switzerland in Google Earth:
And they will be clustered into a small part of Qatar: 10 of the 12 proposed stadiums are within a 30km radius. It's staggering to think that Doha wasn't considered suitable to host the Olympics in 2016... yet six years later, the city will take on the most of the burden of staging an event that normally takes an entire country to host.
On the pitch, Qatar's challenges are no less daunting. They have never qualified for the World Cup before. This is not unprecedented; Japan were awarded the 2002 World Cup before they'd ever reached the tournament, but Japan eventually did qualify in 1998. Leaving aside the first two tournaments for obvious reasons, no country has ever made their debut in the World Cup as hosts.
Can Qatar qualify? It's not impossible; they have come close on two occasions. But it's also fair to say that they are not very good. Qatar are ranked 113th in the world, below Haiti, Gambia and Iceland. They have failed to win any of their last 11 matches at the Asian Cup; their last victory was back in 1988. And in the wake of Qatar's successful bid, a video featuring an awful miss in front of an open goal by a Qatari player started trending high on social media.
[youtube=http://www.youtube.com/watch?v=NQLylizGmDs&feature=related]
On the bright side, Qatar have longer than most hosts to prepare: There are a full 12 years to go until the first Middle Eastern World Cup. But they also have more challenges to solve than most World Cup hosts.