The European Space Agency's successful landing on a speeding comet is captivating the world.
Now the Philae probe is sending back images of its new home on Comet 67P/Churyumov-Gerasimenko.
But it can be hard to wrap one's mind around the scale of things in space.
So the ESA made some images showing the comet over cities in Europe.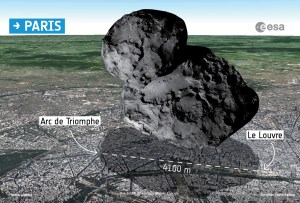 This one places it in Paris. Spanning 4.1 kilometers, the comet would roughly cover a distance from the Arc de Triomphe to the Louvre.
That got Team News Stream wondering... what would it look like here in Hong Kong?
So we worked a little map magic – and voilà!
The comet takes up quite a chunk of space when compared to Hong Kong island – and it reaches all the way across Victoria Harbor.
Remember, the probe is frequently compared to the size of a washing machine.