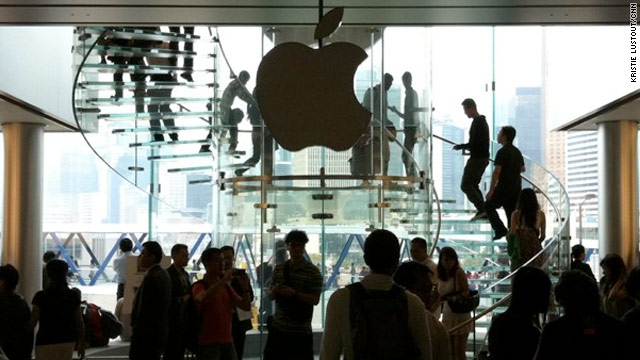 Apple's iconic logo remains symbolically dark at the company's Hong Kong store.
In front of the Apple Store in Hong Kong, a young man approaches the entrance. He carefully places a Steve Jobs figurine on an altar, kneels in front of it, whispers a prayer, and walks away.
And the local media go wild.
Hong Kong's tabloid photographers have gathered en masse at the Apple Store in IFC as the city's ardent fans leave flowers, tokens, and cards all in honor of Steve Jobs.
One handwritten note reads, "Steve Jobs' spirit lives forever" and "we will miss you."
News of a formal Hong Kong vigil is racing through social networks. One vigil is due to start 7 p.m. on Thursday at the walkway overlooking the Apple store. Participants are being asked to bring candles, flowers or an "iCandle." As the name suggests, that's a virtual candle displayed on an iPhone.
Steve Jobs has a massive following in Hong Kong and China. He is the subject of countless unauthorized biographies in Chinese. He has inspired a local start-up to craft a figurine in his likeness - complete with signature jeans, wire rim glasses, black shirt and New Balance sneakers. And his creations have sold like, well, hot next-generation iPhones.
In fact, according to Apple, its store in Hong Kong sold more Macs on its opening day than any other Apple store in the world.
It was a performance so impressive that Apple CEO Tim Cook gave it top billing at the recent Apple Event in Cupertino earlier this week. Cook shared his enthusiasm about the stores in Hong Kong and Shanghai and said more are on the way. (Apple currently has six stores across China.)
And one more thing. The Hong Kong store logo usually glows white, but today... it's been turned off. It's a detail not lost here in Hong Kong.