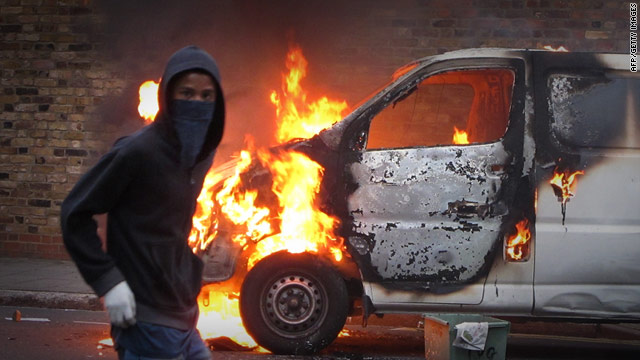 It wasn't supposed to be like this. We were about to put the "Great" back into Britain. Just as the Swinging Sixties and Cool Britannia defined the youth of previous generations, the twin beacons of the Royal Wedding and the London Olympics were expected to give today's young 'uns something to shout about. Well, they're shouting alright. And looting. And trashing. And burning.
Clearly, those partaking represent a tiny minority. But they're making the majority of headlines out of Fleet Street this week.
It's difficult to know how to categorize current events on the streets of England. An outburst against authority? Partially – though the link to a Tottenham police shooting is increasingly tenuous. A cry for help? If so – it's ever less likely to fall on sympathetic ears. Or just the latest in a series of multi-motivated underclass uprisings? Well, that depends on how you define an underclass.
One thing this isn't is a standard working class revolt.
Britain's less wealthy have a proud history of fighting for their basic rights and needs with strong tactics and strong messages. This week's rioters have ruinous tactics and no discernible message. If it's jobs they're after, I'd argue that arson convictions are unlikely to enhance their résumés.
There's probably no simple explanation for what's happening. But it's clear that David Cameron hasn't yet fixed what he liked to call "broken Britain" when he wasn't in charge. Previous Conservative PM John Major (with a similar fondness for "b"-based alliteration) talked about going "back to basics". Cameron should possibly do likewise. There's evidence that the unsavory developments of recent nights owe as much to the classroom as they do to class.
American journalist Kai Ryssdal told Piers Morgan Monday that this sort of thing wouldn't happen in his home country. And I think I know why. It's probably down to boredom.
I'm a product of both the U.S. and UK mainstream school systems. Each has its faults. The former arguably spreads academic activity too thinly. But the latter does something potentially more dangerous. It all too often closes its doors at mid-afternoon, Monday to Friday. Extra-curricular activities are out the window. Working parents aren't available to find kids alternative entertainment, and they're left to their own devices. Tedium sets in and bad behavior regularly follows.
In the U.S., most kids are afforded the chance to join all manner of clubs and sports teams. Staying behind after school isn't abnormal or uncool, because peer pressure works in that direction. Hours of evening and weekend activity keep school students physically active and mentally stimulated. Granted, there are schools that fail and pupils that fail – just like anywhere. But show me a U.S. city where most teenagers habitually roam the streets for want of viable alternatives, and I'd be mightily surprised.
Let me turn things around for a second. If this week's riots aren't down to boredom, and the gangs on the streets genuinely do care about jobs and the economy – there's another issue at play. British higher education.
Various administrations have conspired to teach all UK schoolchildren that they're entitled to a place at university. A nice idea in theory; unworkable in practice. It's not about who's academically gifted. It's about who's prepared to bear the financial burden.
This merely creates a different kind of underclass. Those who don't stay in education are now a minority. And those who do often can't find a job to fit their new credentials. The result? Thousands of undergraduates leave higher education and take up posts that could have been filled by high school leavers. Despite soaring studying fees, the pointless cycle continues. Little wonder there are lots of unhappy young people about.
This notion of social advantage – assumed or actual – is arguably pretty close to home for David Cameron. In Britain, disdain for privilege is a bigger issue than disdain for authority. People born into money are toffs. People who come into money have betrayed their backgrounds.
Nowhere is this ill feeling more evident than in education. Class and the classroom are in fact intertwined. And the two men currently asking Britain to tighten its communal belt – Cameron and Chancellor George Osborne – just so happen to be private school and Oxbridge alumni. Neither man should apologize for his schooling. But both should realize that if "broken Britain" is ever going to be fixed, a closer examination of the wider education system is probably a very good place to start.