Call him the Little Master, the God of Cricket or an icon in cricket-crazed India, one thing is certain: Sachin Tendulkar sits on the brink of making history… again. He is close to becoming the first cricketer to knock his 100th international 100.
That's scoring one hundred runs, one hundred times. And that's something special.
It was hoped that Tendulkar would rewrite the record books in the first test at the so-called "Mecca of cricket", Lord's. It would have been almost too perfect. It would have been his 100th international century, on the 100th match between the two nations and on the 2000th test match ever. In short, it would have been numerical poetry. 
But headlines had to be re-written after illness struck. Tendulkar had to spend the first two sessions of the fourth day off the field to recover. He eventually made just 34 and 12 runs in the match as England strolled to victory. And his 100th 100 didn't materialize during the second test, either. But it's surely only a matter of time.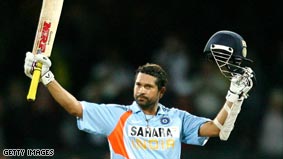 After all, he is the most illustrious run scorer in one-day internationals with 18,111 runs under his belt - something Tendulkar described as "the biggest achievement in 19 years of my career." He now has 14738 runs in test cricket. In 1998, the Little Master scored 1894 runs, easily the record for the highest number of runs scored by any player in a single calendar year for one day international games. In February 2010, Tendulkar broke the previous world record for the highest individual innings in a one-day international when India played against South Africa and became the first male cricketer to score a double-century in one-day cricket. He made 200 runs, breaking the record of 194 jointly held by Pakistan's Saeed Anwar and Zimbabwe's Charles Coven.
He currently owns the record for scoring the most centuries in international matches: 51 scored in tests and 48 in one-day internationals for a total of 99. Australian Ricky Ponting is a distant second place with just 69 to his name. No wonder, when he's been racking up centuries for a while: the Little Master scored his first 100 at the age of just 17.
The statistics speak for themselves, but even they can't demonstrate just how loved he is in his home country.
He stands alongside Bollywood icons in India's pantheon of heroes. In a country where cricket is like a religion and Sachin is the God, it isn't surprising to find pictures or symbols of him in people's home temples. Parents have named their sons after him, there's a wax figure of him in London's Madame Tussauds and even a new hybrid of mangoes was named after him last year in India.
Even if Tendulkar doesn't make a century in this series, his legacy is secure. But it's surely only a matter of time before we see the Little Master back on the front foot and back on the hunt for that elusive hundred.