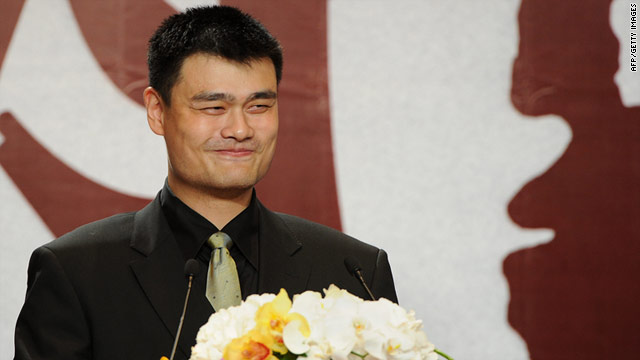 If you browse through pictures of the Chinese national basketball team on their official website, you may notice a famous face missing.
Hours after announcing his retirement on Wednesday, Yao Ming was already consigned to history by China's basketball association. But netizens have fonder memories of the 7-foot-6 basketball giant who spiked China's interest in the NBA.
On the popular social network Sina Weibo, many gave Yao their blessing. One user said: "Good luck to Yao Ming, the symbol of basketball in China. He changed people's view of Chinese basketball and influenced the NBA. YAO, YOU ARE THE BEST!!!"
Known for his humor and humility, Yao charmed his audience of guests and journalists during his farewell announcement. The news conference used the theme "Ming Xie" (明谢), which has the same character as Yao's first name, Ming (明). But it is also a play on words: The formal term for appreciation in Chinese (鸣谢) is also pronounced as "Ming Xie". By embedding his name, Yao used the event to say thank you to his supporters around the globe.
He may not be able to play anymore, but his trademark wit was in fine form during the event. When asked what he will miss about basketball, Yao said, "I'll miss running at full speed on courts the most. Well of course my running at full speed is not really that fast, but I'll still miss that feeling."
And when reporters asked where his future will be, Yao answered, "I will definitely be on Earth."
Not all the reaction on Sina Weibo was positive. One fan's anguish is plain to see: "Yao Ming left the NBA, I no longer believe in love." There was also plenty of frustration. Weibo user Zi Xing Peng (紫星鹏) wrote, "Before I only watched basketball on TV, only watched NBA games, only watched the Rockets team, only watched Yao Ming play. Now that Yao Ming retired, I'm selling my TV!"
That might sound extreme, but there may be some truth in it. According to an online survey conducted this week, 57% of Sina Weibo users now plan to stop watching the NBA.
Yao's face may not appear on China's national team roster anymore. But if netizens are any indication, Chinese basketball will continue to live in the giant man's shadow.