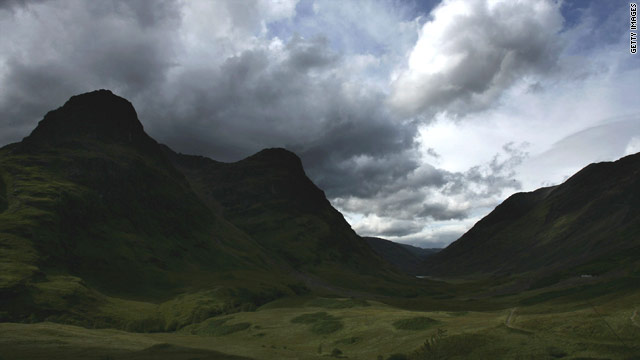 From Harry Potter's roots in Edinburgh's Old Town (where a young Joanne Rowling started scribbling her saga) right up to the climactic, cinematic Battle of Hogwarts, Scotland has cast its spell over the series. And just as Peter Jackson's "Lord of the Rings" trilogy had viewers salivating over New Zealand, the Potter movie anthology has done a first-class branding job for my home country.
A quick admission before I proceed. I am a former employee of VisitScotland, the national tourism board. Indeed, I was working for the organization in London when the first Potter film was released. Times were hard. The motherland was still reeling from the double ignominy of the foot and mouth outbreak and Madonna's Highland wedding to Guy Ritchie. We were grateful for small mercies, such as Madge's decision to leave her leotard at home.
Then, with a wave of his little wizard wand, Harry Potter breathed new life into our industry. Hagrid's hut sprung up on a Highland hillside. Small Scottish children hopped aboard the Hogwarts Express as it chugged its way west from Fort William. The national newspapers were full of it. The rest of the world would follow.
Much attention has focused on filming locations such as London's Kings Cross Station (bearing a remarkable resemblance to its neighbor St Pancras) and Gloucester Cathedral (whose corridors are recognizable as the haunt of Nearly Headless Nick and Moaning Myrtle). But for me - and millions of Potterphiles - the majesty of the wizarding world is most potent in its landscapes. These made me homesick as a 21-year old in London, just as they do as a 31-year old in Hong Kong. And, as such, I offer you my five favorite Scottish Potter scene-stealers:
1. Harry and Ron have car trouble, Glenfinnan Viaduct,  Lochaber ("Harry Potter and the Chamber of Secrets," 2002)

(VisitScotland)
Back in the days before Ron got unwieldy and Harry got naked in "Equus," the twosome got in a tangle with an errant blue car over the Glenfinnan Viaduct by Loch Shiel (located in the center of the shot above). The bridge has come to be synonymous with the Hogwarts Express, while the wider location is more commonly associated with Bonnie Prince Charlie's raising of the standard in 1745. Harry's adventures had a happier ending.
2. The Triwizard Tournament kicks off, Steall Waterfall, Glen Nevis ("Harry Potter and the Goblet of Fire," 2005)
(VisitScotland)
Remember the dragon and the cheering children and the aerial acrobatics? Well, if you look beyond all that, you'll see Glen Nevis (the lower reaches of which also featured prominently in "Rob Roy" and "Braveheart".) The Steall falls may be superimposed in the scene, but they're worth checking out in reality. While you're there, make sure you attempt to cross the bridge that a Scotsman could only describe as "shoogly".
3. Death Eater takes on the Hogwarts Express, Rannoch Moor ("Harry Potter and the Deathly Hallows Part I," 2010)
(VisitScotland)
Luna Lovegood finally gets what's coming to her as the Hogwarts Express is intercepted on a vast and barren plain by a nasty fellow in a black cloak. What you don't see are the stunning mountains and lochans (small lakes) behind the camera. Nearby is Corrour Station, where the "Trainspotting" quartet determined it was "sh*te being Scottish." I'd put that down to their lifestyle rather than the scenery.
4. Werewolf versus dog, Glencoe, Lochaber ("Harry Potter and the Prisoner of Azkaban," 2004)
(VisitScotland)
Rebus Lupin and Sirius Black learn that it's a dog-eat-dog (or rather a big-dog-throw-little-dog) world beside the Clachaig Gully at the foot of Glencoe. This location was used repeatedly throughout the third Harry Potter adventure, establishing itself as the home of Hagrid, and often the setting of wistful stares towards distant Glen Etive. If you must watch this scene, beware: There's some typically unforgivable Rupert Grint gurning at just over a minute in.
5. Hagrid skims stones, Loch Eilt, Lochaber ("Harry Potter and the Prisoner of Azkaban," 2004)
(VisitScotland)
Hagrid gets contemplative down by the loch side, but thankfully has some magical stones and magical surroundings to help shake him out of it. Like Glenfinnan and Rannoch Moor, Loch Eilt sits on the West Highland rail line, meaning you don't even have to leave your cushioned seat to admire the scenery. It's best that you do, however. Just remember to bring the bug spray.
So, farewell, Mr Potter.  Scotland (and particularly its tourism industry) will miss you. But with Disney Pixar's "Brave" set to put Britain's northernmost nation in the spotlight next year, along with Chris Nolan's Batman threequel "The Dark Knight Rises" (currently shooting south of Inverness), our Hollywood dream is very much still alive.