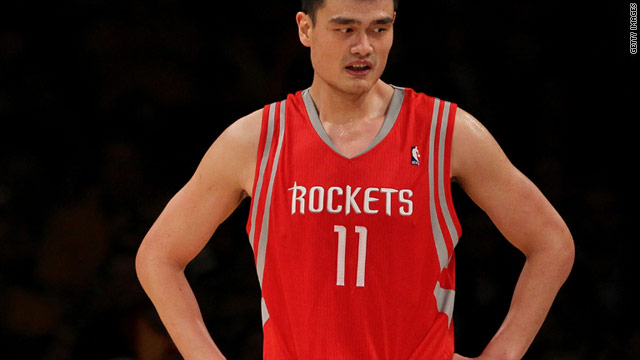 He entered the NBA with a promise like few others. Yao Ming brought a rare combination of talent and the ability to unlock a massive new market for the sport. Nine years later, reports say Yao is set to retire. And despite his best efforts, the sad truth is his career wasn't what it could have been.
Yao could have been the NBA's next great center. The NBA has a long history of dominant big men leading their teams to the title, from George Mikan in the 50s, to Bill Russell, Wilt Chamberlain, Kareem Abdul-Jabaar, Hakeem Olajuwon, and Shaquille O'Neal. Yao was drafted at the height of Shaq's dominance in 2002, but he had the tools to take him on.
Shaq's strength and weight made him an unstoppable force in front of the basket. But Yao's ability to shoot from further out forced Shaq to leave his comfort zone and chase him; physically moving a seven foot tall obstacle from the hoop. And Yao was a full four inches taller. In their eagerly awaited first meeting, Yao demonstrated his height advantage by blocking Shaq twice in the first few minutes. The Rockets won that game, and Yao had arrived.
But success didn't quite follow.

The Rockets were respectable enough, making the playoffs five times in his nine years. But they were expected to be better than respectable; when Yao was paired with Tracy McGrady, Houston fans hoped their dynamic duo could challenge the NBA's elite. Instead, Yao's Rockets advanced to the second round just once, losing four times in the first round.
Injuries undoubtedly held Yao back. It felt like every time he'd elevate his game, another injury would strike him down. In the last two seasons, he played just five games out of  a possible 164.
And when he returned, it was to a different NBA. A combination of rule tweaks plus a simple lack of talented big men shifted basketball's focus away from centers to smaller, faster guys. Yao's rare set of skills were still valuable, but not nearly as important as they would have been in previous years.
Despite the setbacks, Yao remained popular. Thanks in part to votes from China, Yao often led NBA All-Star voting. His humor and ability to defuse potential controversies - like his response to Shaq's "ching chong" comments - won him fans in the U.S. And then there was his Apple ad.
But players aren't defined by their media savvy; their legacy rests on what they win on the court. And injuries robbed Yao of his chance to show what he could really do.
There is a sad coincidence here:  Should he indeed retire this summer, Yao Ming will leave the NBA at the same time as the man he was supposed to supplant at the game's summit. Shaquille O'Neal retired in June after 19 years in the league. Yao Ming lasted just nine.