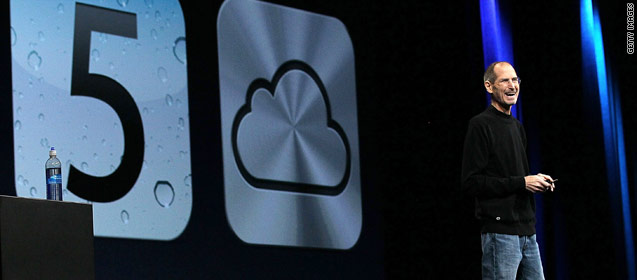 When Apple boss Steve Jobs took the wraps off iCloud, the company's new cloud services, he gave us a glimpse at the future of computing.
(Confused by cloud computing? Watch News Stream's handy explainer right here!)
What is iCloud? It's a system for storing various bits of your data online, and pushing all that data to all your devices so that they are always in sync. For example, let's say you create a document on your Mac. Without needing to hit "Save", iCloud will automatically save a copy of it online, and push it out so you can edit that same document on your iPhone or iPad.
Apple calls iCloud a breakthrough. Jobs says it's the culmination of a decade-long effort to kill the desktop file system.
It's certainly a bold step forward. But is it bold enough?
iCloud is Apple's attempt to update the "digital hub" model it's used to great success over the last decade. The "digital hub" is the idea that your computer is in the middle of your digital world. Your computer is the master; your phone, camera and music player must all plug into your computer to sync data. Everything is controlled by the computer. Everything is stored on your computer. Want to take a few songs on the road with you? Pick it from your computer's library and send it to your music player.
Except, as Jobs explained, our digital world is a little more complicated today. Take music. Before, only your computer could buy songs. Now? You can buy songs on your computer, phone, tablet or even on an iPod touch. Sharing a song you've bought on one device requires plugging it into the computer to sync, then plugging in the other device to sync that one too. It's cumbersome. It's time consuming. It's messy.
Apple's solution is to "demote" the computer from the central controller to just another device. Now, whenever you buy something, it's immediately available for all the other devices to download wirelessly, including your computer. The cloud is now your digital home.
Except it isn't.
For all the great features in iCloud, there are some startling restrictions.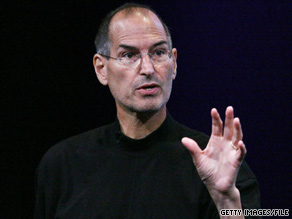 You may notice that I said you can download whatever you buy to other devices - not stream, download. It does not appear that iCloud will let you seamlessly access your entire music library; if you want a certain song on your iPhone, you need to download it to your iPhone. Amazon and Google's cloud music services allow you to stream music, saving valuable space on your devices and giving you instant access to everything you have (assuming it fits within their storage space, of course.)
You also have to download your data to the appropriate app. Take Apple's demonstration of documents in iWork. You can't access those documents on a website, like Google Docs; you need to open them in one of Apple's iWork apps. You need to buy those apps for iCloud to work. And those apps only exist on iOS devices or the Mac.
I know there are some of you who are about to say: What did you expect? It's Apple. Of course they're pushing Apple apps and Apple devices. This is true. But this also runs against what the cloud is supposed to be.
To me the cloud is embodied by Hotmail, or Google Docs: I can access those services on any device that has an Internet connection. I do not need an Apple device or a particular app; all I need is something with a web browser and a working Internet connection for complete access to my email or my documents.
Photo Stream, Apple's picture sharing system, is the best example of iCloud's power and its limitations. Photo Stream instantly shares photos you've taken with your iPhone with all your devices, so your iPad or computer (or even another iPhone) can immediately browse your latest snaps.
But it was interesting to hear Jobs talk about the computer's demotion to "just another device" minutes before saying that the only thing that will hold all your photos forever is, guess what, your computer. iCloud's servers will only hold the last 30 days worth of photos, long enough for you to sync your devices.
That more than anything shows what iCloud truly is: It's not really about storing data. iCloud is really a glorified sync service that works through online storage. It's clever, and it does look like a really good way of keeping all your devices in sync. But it could have been so much more.