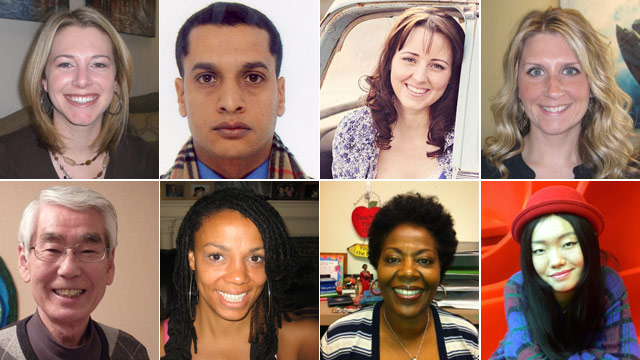 (Left to right, top to bottom) Kelly, Reda, Rebecca, Amanda, Shiro, Autumn, Gloria, Jennie.
It's a cliché, but it's one rooted in the truth: Beauty is in the eye of the beholder.
Everyone has a different idea of what is beautiful to them. And everyone perceives their own qualities in a different way.
There are few better examples of the terrible power beauty has on the human psyche than this powerful story from Kyung Lah. She introduces us to a 12 year old who thinks the way to gain confidence is to change her appearance with plastic surgery.
After filing the story, Kyung decided to look a little deeper at what beauty meant to people in different parts of the world. She put out a call to friends of friends to hear their thoughts, and while certainly not a scientific survey, their answers are fascinating.
KELLY WERLY
El Dorado Hills, California, USA
"Beauty is now for sale. The natural beauty will always be a classic but if that is not the look you were born with you can change it. You can purchase the right clothes and accessories, the make-up, color your hair or get extensions, and even change your features - all for a price. In a way it is freeing because anyone can be beautiful."
REDA KENAWY
Tokyo, Japan
"Beauty is beauty of the soul. A person can be normal in looks, or less than normal, but still you feel he or she is beautiful because you admire their soul."
REBECCA MALONE
Las Vegas, Nevada, USA
"Anyone can say that beautiful is an Angelina Jolie, or a Kate Moss, but to me smiles that make your eyes crinkle - that's beauty. If a person is happy, truly happy, it exudes from every pore, it's contagious and warm and no matter what they look like, it's beautiful."
AMANDA MEILINGER
Atlanta, Georgia, USA
"What makes a person beautiful? A presence that goes beyond looks. Happiness, confidence and kindness. And great hair doesn't hurt. :)"
SHIRO WAKATSUKI
Yokohama, Japan
"I think a person is the most beautiful without any make-up, modification or extra addition to his or her face. The way you lived life will be reflected in your face, body and skin, so if you effort to live everyday life in good spirit, you will become beautiful."
AUTUMN SAXON-ROSS
Washington DC, USA
"For me, beauty comes from within, and radiates out into the world. Without being comfortable in your own skin and sure of yourself you can't be beautiful."
GLORIA P. HARPER
Atlanta, Georgia, USA
"Authenticity makes a person beautiful."
JENNIE GLOREY (KANG HUAXIN)
Beijing, China
"For me, beauty is something that puts a smile on your face or makes your heart skip a beat. What makes a person beautiful is the ability to pull off whatever style this person chooses by having an aroma that spreads from the inside out, from personality to appearance."