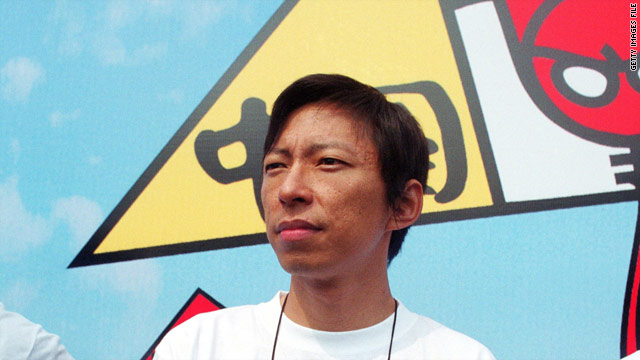 CNN's Kristie LuStout worked with Chinese internet pioneer Charles Zhang before he made it big as founder, chairman and CEO of Sohu.
Our week-long focus on the Internet in China has made me nostalgic about my Beijing Internet days in the late 1990s.
It was the spring of 1998 and, fresh out of grad school, I couldn't land my dream job as a full-time reporter in China. With school loans to pay off, I took up a post with a fledgling Chinese entrepreneur whom I met while covering a Beijing Internet conference as a freelancer.
His name was Charles Zhang.
Charles would later become known as a China Internet pioneer and score a fortune big enough to make it on the Forbes China rich list. But back then, he was just another dotcom dreamer. His company was called Internet Technologies China or ITC, a generic catch-all name which described what it did at the time - everything from basic Web design to indexing a Chinese language search engine.
The ITC office was a single room jammed with about a dozen people in Beijing's Chang An Building. My job was simple - to help Charles chronicle the rise of what he already believed to be the greatest Net company in China run by a superstar CEO.
I set to work - writing company brochures and press releases, and arranging interviews with international media. My first coup was when Charles was named as one of TIME magazine's "Digital 100" by none other than my future CNN colleague Jaime Florcruz.
But Charles' sheer ambition and solid self-belief didn't hurt either. In fact, the walls of the office were wallpapered with large format photos of Charles standing side-by-side with various "digerati" including angel investor and M.I.T. Media Lab founder Nicholas Negroponte, AOL's Steve Case and Yahoo's Jerry Yang. Little did the Chief Yahoo know that Charles would later call his own search site "Sohoo" and, shortly after, I would be tasked with communicating the reasons for rebranding the site, and company, as "Sohu"  (a Mandarin homonym for  "search fox").
The office was spartan to say the least. Forget the gourmet canteens of Baidu today. The dotcom diet in Beijing back in the 90's was MSG-laced instant noodles and nicotine. When the team expanded beyond the original space, I was seated near a group of chain-smoking software engineers and was forced to enjoy the second-hand smoke.
As the sole Western woman at the company, I also had to ramp up my Mandarin. And yes, I ultimately took to smoking for the first time in my life when I discovered that a Salem menthol break in the stairwell was the best source of company gossip.
And it was in the stairwell where I heard that word got out about my pay package. I had a low five figure salary that was enough to pay the rent, pay off the grad school loan, and have some weekend fun. But to some of my Chinese colleagues, I was paid far too much compared to their earnings. And inevitably, there was resentment.
I was compelled to prove my worth so I piled on the work, taking on planning and strategy for both domestic and International communications.  I led the campaign for the redesign of the Sohu logo which is still in use today (it was designed by an ardent fan named Song Jian).  I also acted as the Sohu board secretary, and worked closely with Charles to shape a business plan that would take us through a second round of funding.
I loved my colleagues and didn't want to let them down. I was also truly fascinated by my work, envisioning myself as a reporter "on embed" in a pioneering Chinese Internet start-up.
And as such, I couldn't help but moonlight as a reporter to share my experiences in China's nascent I.T. industry. I landed a column in Hong Kong's South China Morning Post called "Beijing Byte." Yep, I thought it was a clever title (remember this was 1998).
My reporting instincts also came to the fore at Sohu in the wake of the U.S. bombing of the Chinese embassy in Belgrade in May 1999. I trawled the website looking for Chinese Netizen reaction, collected the best comments and compiled it into a press release that was picked up by a number of media outlets.
Eventually though, I felt compelled to leave the company. I was determined to establish myself as a reporter and felt that my job at Sohu was pointless. I had become a personal agent for a mercurial CEO who wanted me merely to boost his rock star status.
After my resignation, Charles did try to woo me back - promising generous options and management training. But the relationship was over. I was determined to make my own way in journalism. I walked away from a lot of financial promise, but I have no regrets. As an anchor/correspondent for CNN International in Hong Kong, I've landed the dream job I had always wanted.
Over a decade later, I'm still in touch with a number of old colleagues. Former Sohu editor Thomas Zhang is now a successful reporter with FT Chinese. And Victor Koo, a senior Vice President at Sohu, is now the CEO of China's Youku.
As for Charles? Well, I invited him to my wedding celebration in Beijing a few years back. He had turned into the high-flying Internet tycoon he had always wanted to be. I was very very flattered that he had a moment to mark the occasion with me. But it was a quick appearance as he was there for only the exchange of vows. After the service, he gave me a quick pat on the back and a wedding gift.
It was a cloth bag full of Chinese tea.