Had I purely followed the coverage of CNN (and other international news networks) in the run-up to my maiden voyage to Australia a couple of weeks ago, I'd have learned three things:
A lot of it has been flooded. Actually, that's an understatement.  More than a lot of it. Areas reportedly the size of sizeable countries have been submerged. Many are inaccessible, and some require months – if not years – of recovery time;
A  few areas have remained dry, but that's only made them susceptible to that other great Australian blight: bushfires, ripping through the countryside at a terrifying speed,  and taking homes and businesses with them;
Floods and fires cost people a lot of money. Thousands of Australians have been financially crippled by natural disasters in the past couple of months. But it gets worse. Tourists already put off by all the negative headlines out of Australia will feel financially crippled if they fight their fears and make the trip. The Aussie dollar is strong as an ox, and visitors from the UK, for example, can expect to get about half the value they received a few short years ago.
Now, I haven't been sponsored by Tourism Australia to write this blog. If I had been, I'm pretty confident that everything written above would have been aggressively edited at best. But I'm going to say this: Australia, as you may be aware, is a big place. It's also a diverse place. It's a big, diverse place with a $34 billion tourism industry that deserves a little bit of support in the current meteorological and financial climate.
Let me start by addressing the meteorological climate. I'm not claiming my experience was entirely representative, but of 17 days spent touring the southeastern corner of Oz, 16 brought sunshine and only one brought rain. I can't promise everyone the same good fortune, so I'll leave weather off my list of reasons to visit. However, I am an obsessive compulsive alliterator, so I must categorize my key recommendations under other 'w' headings: the welcome, the wildlife and the weirdness.
The Welcome
Anyone who's ever visited the good ol' U.S. of A. will be familiar with the "Have a nice day" culture of hospitality. Many find it grating. But I'll tell you what. As a British citizen, I'll take the questionable sincerity of America over the genuine surliness/passive aggression of the UK any day.
Australia, to its eternal credit, has found a happy medium. Here, people treat you with a friendly familiarity that catches you off guard at first, but quickly pulls you in.
You open your mouth and they impersonate your accent. You finish your drink and they say "That was quick!" in a thinly-veiled, "You're-a-bit-of-a boozer-aren't-you?" kind of way. You ask where the bathroom is and they tell you gleefully to follow the smell.
The welcome isn't restricted to face-to-face encounters. Even road signs welcoming you into Australian towns defy the conventions of the genre. A couple of atmospheric examples can be seen below: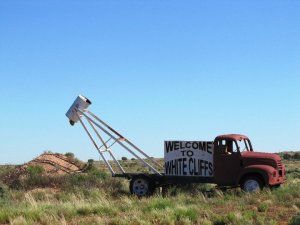 Hotels and restaurants get in on the distinctly Aussie welcoming act, with tongue-in-cheek humor a staple of many establishments. I think we can assume that the café bearing the sign below does not in fact require investigation as part of the CNN Freedom Project:
The Wildlife
If the Australian people are welcoming towards visitors, the animals are arguably more obliging still. All the stars of the Aussie wildlife scene can be located with relative ease, in significant numbers (with the exception of a few nocturnal oddities).
Each of the following photographs was taken in the wild. And most were taken either from our rented vehicle or just a few feet from it.
Red Kangaroos, Paroo-Darling National Park, New South Wales
Emus, near Broken Hill, New South Wales
Tree Goanna, Mount Remarkable National Park, South Australia
Swamp Wallaby, Port Fairy, Victoria
Koala, Kennett River, Victoria
Alas, there was one not-so-obliging animal. This echidna (a monotreme that resembles a hedgehog crossed with an anteater) was not pleased to see us. At all:
The Weirdness
The echidna is a cousin of the platypus, one creature I sadly didn't witness in the wild. But, elusive as it is, the platypus is a pretty good metaphor for Australia at large. Frankly, any country willing to shrug off the existence of a duck-billed, egg-laying, amphibious mammal must do a pretty good line in weird stuff.
Let's start with the oversized objects. Many towns cunningly pull in punters with the promise of "big things". These often take the form of fruits (banana, pineapple, mango etc.). Others represent locally abundant animals. And, as the image below demonstrates, I could not contain my delight at meeting  Larry the Lobster at Kingston S.E., South Australia. You can't see his face, but I swear he was delighted too:
Examples of weirdness are everywhere. This transparent toilet door is a feature of the Imperial Hotel in Mount Victoria, New South Wales:
Sticking with bathroom bizarreness, the Healesville Sanctuary in Victoria's Yarra Valley has taken a unique approach in its efforts to evangelize recycled toilet paper:
I must also give credit to the Healesville Sanctuary for its insightful information boards. I could never have guessed what the koalas were up to without them:
And finally, I'd like to say that this billboard in Melbourne needs no explanation. But clearly it does, and I'd be grateful to anyone who can supply one:
One thing that will get Australia through its hour of need is the natives' unyielding sense of humor. The other thing is a little bit of positive coverage. So, next time you see a picture of a kangaroo stranded on a square meter of unsaturated soil – think about the tens of millions that are bounding about in the red-hot outback, ready for you and your camera to pay them a visit.