As you may have noticed, I'm a bit of a gadget geek. And a gaming geek.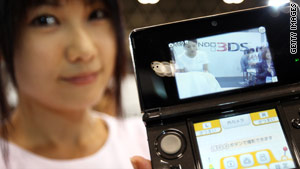 So it should come as no surprise that I bought the Nintendo 3DS as soon as it came out - which, for Hong Kong, was two days before the official worldwide debut in Japan on Saturday.
Unfortunately, I didn't get the day off to play with my new toy. So my impressions here will be a little brief.
What you probably want to know is: Does it work? Can you see 3D images without those annoying glasses? The answer is simply, yes. It works.
Sorta.
You need to sit at JUST the right angle for the 3D effect to work. And when it works, it totally works - I've seen people grab the 3DS skeptically, move it around in front of them, and then suddenly gasp when the effect hits. It feels a bit like the moment you suddenly see those "magic eye" graphics that were so popular back in the 1990s.
Unfortunately, the effect doesn't work for everyone. An unnamed writer on the News Stream team couldn't take the 3D effect, never saw it, and felt extremely dizzy after seeing it.
I'll report back after I've had more time to play with it, and I'll have a few pictures too. Check back soon!