You've probably seen the ad already. If you haven't, stop reading this and watch Volkswagen's Super Bowl commercial right now. Don't worry, I'll be here when you get back.
The ad stars a pint-sized Darth Vader as his attempts to demonstrate the power of the Force. If you don't fall in love with him in the ad, you might during Kristie Lu Stout's interview with the boy behind the mask, Max Page.
Max hasn't seen any of the Star Wars films yet; he's too young. The original film is 34 years old, after all. And yet it remains a cultural phenomenon. Why?
In many ways, it's a surprise that Star Wars is as popular as it is.
Think about it: It's a science fiction franchise created in the 1970s. The trouble with science fiction is that it "dates" easily. Look at any of the computer displays used in the original trilogy. They look less like the technology of a spacefaring civilization, and more like, well, computers from the 1970s.
And the original trilogy's pioneering special effects? In places, still brilliant. But in others, like the creatures on the ice planet Hoth? Not so brilliant.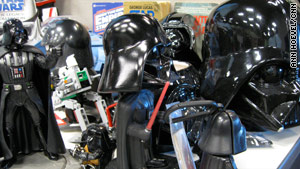 The originals were great movies. But they are around thirty years old. There are generations that grew up with a different set of Star Wars films: The prequel trilogy.
For the record, I don't think Episodes I through III are awful movies. They're not bad, really. But they're not all that good either. And without the benefit of seeing the originals through nostalgia-tinted glasses, would you blame today's children for seeing the prequels and not taking an interest in a galaxy far, far away?
But they have taken an interest. Look at the continuing Clone Wars TV show. Look at the long-running line of books. And look at this Reuters report that says 2010 set a record for Star Wars toy sales in a year without a new movie.
So why is Star Wars still so popular? I don't have all the answers. But it strikes me that the enduring strength of Star Wars are from the characters. Luke Skywalker, Han Solo and, of course, Darth Vader are icons for a reason.
It's a good lesson for the movie industry: The film that practically spawned the sci-fi blockbuster isn't an enduring success because of its innovative special effects, but because it features strong characters in a great story. Simple, isn't it?