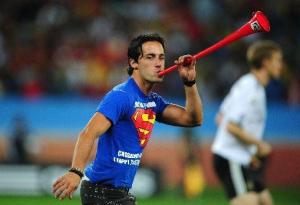 On Monday's News Stream, we told the tragic tale of Mario Ferri (aka 'Il Falco'/'The Falcon'), a serial football pitch invader whose exploits across three continents were all but nullified by a single act of stupidity. When trying to evade the U.A.E. legal system as successfully as he evaded stadium security, Ferri made a fatal error. He told his Facebook friends exactly what he was up to.
"I hope they don't catch me, otherwise I will be in a heap of trouble," The Falcon is said to have astutely remarked on the social networking site. Probably best not to announce it to the world then, is it Mario? Bird by name. Bird by brain.
The multi-game gatecrasher is not the first person to be found out via Facebook – and he's unlikely to be the last.
Perhaps the most documented 'victims' of Facebook disclosure are the world's philanderers. When making friends with people they held a torch for at school, many have a tendency to get overly friendly – and the results are all too predictable. 
Flirtation by Facebook is one thing – but it gets worse. An especially unpleasant uncovering involves the wife and mother who found wedding snaps revealing her husband's bigamous attachment to another woman. Adding insult to injury, the nuptials took place at Disney World, with hubby dressed up as Prince Charming and Wife 2.0 as Sleeping Beauty. Ouch. 
But social network snooping isn't limited to suspicious spouses. Those upholding the law of various lands are now using Facebook as a means to keep tabs on the populace.
Tax inspectors in the UK – despite being banned from using Facebook for personal use in the workplace – have found the site comes in handy for exposing benefits cheats. It seems the domestic framework outlined on claim forms can differ somewhat from the version depicted on applicants' walls and photo albums. 
In Israel, young women are required to serve time in the military unless they are Orthodox Jews – who are exempt on religious grounds. When the number of exemptions started to skyrocket, the draft officers turned to Facebook. What they discovered was behavior among the excluded that would have seemed more orthodox on an episode of 'Jersey Shore'.
For every individual exposed, there's another who has been deceived – and who needs a place to vent his or her anger. Thankfully, Facebook offers such a sanctuary – but it comes with a health warning for anybody who values grammar. The so-called 'Your not sorry, Your sorry I found out' has 380,437 fans – and counting. Compare that to one of my own favorite pages – 'If you're going to create a group, at least check your grammar first' – which boasts a mind-blowing 92 members.
Yes, I admit it. I'm a pedant. I'm one of a dying minority. Consider me exposed.